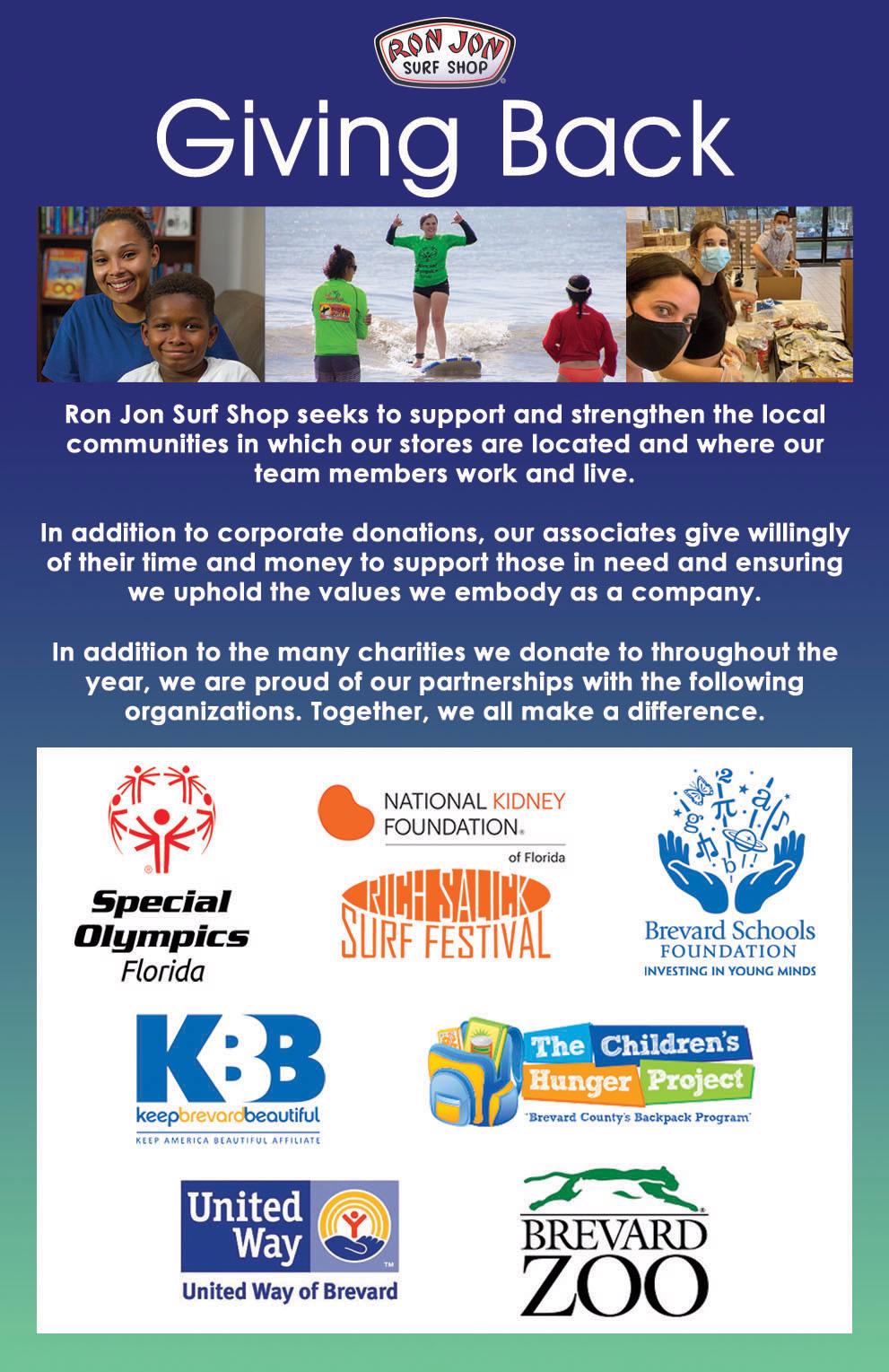 Charitable Giving & Sponsorships
Ron Jon Surf Shop supports our local communities in a variety of ways. We focus our charitable efforts on education, youth initiatives, community upkeep and wellness, beach cleanliness and in supporting the animals that enrich our lives.

Ron Jon Surf Shop also seeks to support and strengthen the local communities in which our stores are located and where our team members work and live. Ron Jon considers charitable donation and sponsorship requests from 501(c)(3) nonprofit organizations that match our social responsibility strategy as noted in the following contribution priorities.

Contribution Priorities
Education/Kids
Educational and youth initiatives to enrich children's lives, that may include programs for public school foundations, scholarships, back to school supply drives, water safety and children's hunger projects.

Environmental and Beach Safety
Programs that keep our beaches clean, beach safety, and promote environmental awareness to protect our oceans and beaches. Examples include Keep Brevard Beautiful, lifeguard support, and beach preservation and conservation.

Community Impact Organizations
Local organizations that have a daily impact on the lives of residents near our stores. Examples include business leagues, first responders, food banks, humane societies, and natural disaster recovery.

Exclusions
Ron Jon Surf will not contribute to:
requests that do not match our contribution focus noted above
requests that are not in the local community (geographic area) as our store locations
for-profit programs
political groups
sports teams (except for surf/skate/beach noted above)
individuals or fundraisers for individuals
charter or private schools
capital campaigns
requests to generally fund an organization that does not benefit a specific program
How to submit a request
If you meet the criteria noted above and would like to submit a request, please do so by completing the donation form at the link below.



Please note that due to the large volume of requests that we receive, we cannot support all requests, will not respond to requests that we will not be able to honor. You will only receive a response if your request is being selected for a contribution.

Athlete/Event Sponsorship
Parties looking for sponsorship for individual athlete sponsorship or support as a Ron Jon Team Rider (surf/skate/stand up paddle) should send an athlete resume and sponsorship proposal to [email protected].

Events not associated with a charitable organization that are seeking promotional or advertising participation in local events should send a sponsorship proposal to [email protected].