Zap Small Wedge Skimboard - 001
Zap
Zap Small Wedge Skimboard - 001
SKU: 6012026600101010
The Zap wedge-style skimboard is a great option for both beginners and maturing young skimmers. Its Composilite build material and Tuff coat gloss finish make it durable and long-lasting. With dimensions of 40" x 17.5" x 0.5" and a recommended rider max weight of 90 lbs, this board is perfect for those just starting out or looking to advance their skills. And best of all, it's made in the USA!
Build material: Composilite
Finish: Tuff coat gloss
Resin: Polyester
Dimensions: 40" x 17.5" x 0.5"
Recommended rider max weight: 90 lbs
Made in the USA
Please note: This item is only eligible for ground shipping.


Skimboards
Ron Jon Entry Level
Size
30"
35"
41"
Weight
50-85 lbs.
85-120 lbs
120-155 lbs.
Ron Jon Deluxe Fiberglass
Size
45"
51"
Weight
up to 140 lbs.
Up to 170 lbs.
Zap
Style
Mini Lazer
Lazer
Sm Wedge
Med Wedge
Lrg Wedge
Med Pro
Lrg Pro
51" Hellcat
53" Hellcat
56" Ace XL
53" Prowler
Weight
Up to 75 lbs.
Up to 95 lbs.
Up to 100 lbs.
Up to 140 lbs.
Up to 170 lbs.
Up to 200 lbs.
Up to 220 lbs.
Up to 200 lbs.
Up to 225 lbs.
Up to 240 lbs.
Up to 225 lbs.
Surface
Size
35"
40"
45"
Weight
75-100 lbs.
110-160 lbs.
125-175 lbs.
Loading product reviews...
Exchanges and returns must take place within 90 days of purchase and be in their original condition (unworn and not used) with tags attached.

For online orders, please email us at [email protected] or call 1-888-RJ-SURFS. A customer service representative will then assist you with next steps in processing your return/exchange. Be sure to have access to the order number listed on top of your invoice or confirmation email page.

Alternatively, follow the return/exchange directions found on the back of your invoice

Please allow 2-4 weeks for processing and/or return delivery.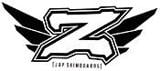 Zap
You Might Like
These Items
Recently
Viewed Items
Loading recently viewed products...
Loading product details...