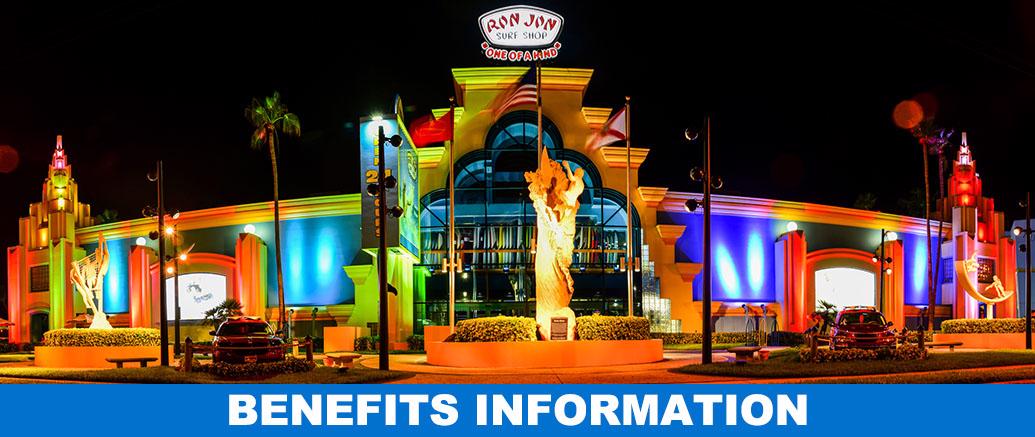 Ron Jon Surf Shop has designed a benefits package that offers competitive pay, group health insurance, a generous 401(k) plan, retail store discount and other industry-related perks with our associates needs in mind.
Ron Jon Surf Shop offers a number of great benefits such as:
Paid Time Off
Group Health Insurance
401(k) Plan
Educational Assistance
Employee Discounts
Jury Duty Pay

Ron Jon grants Paid Time Off (PTO) to eligible employees to provide them with the flexibility to meet their personal and work needs. PTO is earned on all paid time for full-time employees.
PTO starts accumulating after completing the 90-day introductory period or 90 days after transfer to full-time status.


Ron Jon Surf Shop offers Holiday Pay and Time and a Half Pay for holidays observed by Ron Jon; this benefit varies by location. For retail and DC associates scheduled to work on New Year's Day, Easter, Memorial Day, July 4th, Labor Day, Thanksgiving, and Christmas you are paid at Time and a Half. Non-Exempt, full-time associates who have passed the 90-day introductory period, and are employed as of the Thanksgiving and Christmas holidays will receive eight hours of holiday pay (paid at your normal rate of pay).
Exempt and Non-Exempt Corporate Office and Dotcom Associates will be paid for hours when the office is closed on New Year's Day, Memorial Day*, July 4th, Labor Day*, Thanksgiving (Thursday only) and Christmas Day. *Non-exempt Dotcom associates will only be paid time and a half for hours worked on Memorial Day, and Labor Day.

Full-time employees are eligible to take part in Group Health Insurance Benefits.
Exempt and Non-exempt full-time, regular employees are eligible on the 1st of the month following 60 days of employment. Ron Jon offers group medical, dental, and vision insurance as well as supplemental policies and voluntary term life policies.

ALL associates are eligible immediately upon hire. Get connected to the appropriate services you need including support groups, counseling sessions, community resources, education, daily living, care for your pet, child or elderly loved one, your health plan and if necessary, emergency services.

Ron Jon Surf Shop has established a 401(k) savings plan, administered by Empower, to give employees the potential for future financial security for retirement.
A 401(k) is an employer-sponsored qualified retirement savings plan. It allows you to save for your retirement while deferring any immediate income taxes on the money you save or their respective earnings until withdrawn.
The following are key points of Ron Jon Surf Shop 401(k) plan:
Employees must meet eligibility before enrolling
Employees may contribute up to 100% of their pay
Ron Jon Surf Shop offers a discretionary match of 100% up to 5%

Ron Jon encourages its employees to pursue educational opportunities.
All regular, full-time employees who have worked for Ron Jon for at least 90 days at a full-time status are eligible for educational reimbursement. Ron Jon's may reimburse an employee up to $3,500 in educational assistance each calendar year.


Ron Jon Surf Shop offers employees a 30% discount off regularly priced merchandise.

Ron Jon Surf Shop may provide regular day's pay for time spent serving on jury duty which directly coincides with your daily work schedule. Such pay for time spent serving on jury duty will be provided for a maximum of 10 work days.

Ron Jon Surf Shop supports those associates who volunteer their time on a personal basis for approved community service events and programs by allowing full-time associates up to 3 days/shifts of paid leave per calendar year for volunteer time.

Ron Jon employees are paid on a bi-weekly basis. There are 26 paychecks per year, however, benefit payroll deductions are only taken from 24 paychecks (i.e., 2 paychecks have no deductions). Work weeks start on Monday and end on Sunday. Direct deposit is available and encouraged.

Ron Jon benefits are based on the official plan documents and will govern in all cases.
Ron Jon Surf Shop reserves the right at any time to change or terminate these plans.
https://www.cigna.com/legal/compliance/machine-readable-files This link leads to the machine-readable files that are made available in response to the federal Transparency in Coverage Rule and includes negotiated service rates and out-of-network allowed amounts between health plans and healthcare providers. The machine-readable files are formatted to allow researchers, regulators, and application developers to more easily access and analyze data.