Ron Jon Sea Foam Hibiscus Fade Ukulele
Ron Jon Surf Shop
Ron Jon Sea Foam Hibiscus Fade Ukulele
SKU: 1185001300001010
This decorative wooden ukulele features a floral pattern inspired by the tropical hibiscus flower. The Ron Jon badge logo is incorporated into the body print, as well as being printed on the tuning head.
The overall length is approximately 21".
The body is approximately 9 1/4" x 6 1/2" x 2 1/8".
Note: While playable, this is designed as a decorative item for the home and is not tunable.
Loading product reviews...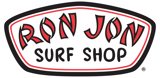 Ron Jon Surf Shop
It was 1959 and on the New Jersey shore a bright young man named Ron DiMenna was just discovering the sport of surfing with fiberglass surfboards. The pastime soon became a passion and homemade surfboards would no longer do. When his father heard that Ron wanted his own custom surfboard from California, he suggested, "Buy three, sell two at a profit, then yours will be free." His Dad was right and Ron Jon Surf Shop was born.
You Might Like
These Items
Recently
Viewed Items
Loading recently viewed products...
Loading product details...